---
SPEAKERS
---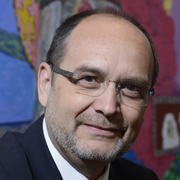 Adrian
Curaj
---
Director General UEFISCDI
Adrian Curaj is a professor of Research Management and the Director of the Centre for Strategic Management and Quality Assurance in Higher Education at the POLITEHNICA University of Bucharest. He is the Chairholder of the UNESCO Chair on Science and Innovation Policies at the National School of Political Studies and Public Administration.
He has a PhD in Control Engineering from the POLITEHNICA University of Bucharest, graduated the EMBA program of the ASEBUSS Bucharest and University of Washington in Seattle-Business School and the Global Management Program –Kennesaw State University.
Adrian Curaj is the General Director of the Executive Agency for Higher Education, Research, Development and Innovation since 2010. He was acting as the Romanian Prime Minister's Advisor on Science, Technology, ICT and e-Governance (2007-2008), and as the President of the National Authority for Scientific Research - State Secretary for Research, Ministry of Education, Research, Youth and Sport in Romania (2009-2010).
Adrian Curaj has been working as a consultant with World Bank, UNESCO, UNIDO and EC for studies in Tertiary Education, Science and Innovation, and Foresight. He was a Romanian representative at the Bologna Follow-up Group.
Adrian Curaj is a member of the Romanian Commission for UNESCO and a member of the Board of Directors of the U.S. Fulbright Commission in Romania. He is a member of EFFLA-European Forum for Forward Looking Activities since 2012 and he was also a member of the External Advisory Board PEOPLE, General Directorate for Research and European Commission, 2007-2012.
Adrian Curaj was acting as project leader for many projects including Foresight in Science and Innovation (2005-2006), Foresight in Higher Education (2009-2011), and research infrastructures – "Research Infrastructures: Foresight and Impact -RIFI" - EC- FP7 project (2009-2011). He is a member of the advisory board of the ETF – FRAME: Skills for the Future project since 2012.
Adrian Curaj published in reputed scientific journals as well as many books, most of them in research and higher education management, and foresight. Two of the inventions he is co-author received gold medals at the Geneva Invention Salon 2009 and 2013.
Adrian Curaj was twice awarded with Romanian National Distinctions, For Merits-Cavalier in 1999, and For Merits-Officer in 2008 for his contributions to Science and Innovation.