---
SPEAKERS
---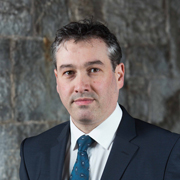 Enda
Mc Donnell
---
Enterprise Ireland's Regional Director for the South/South East Region
Enda Mc Donnell is Enterprise Ireland's Regional Director for the South/South East Region.
As Regional Director, his responsibilities include driving start-up activity locally, developing and implementing EI strategy within the region and contributing to the development of regional business infrastructure, skills and innovation.
An economist by background, he worked as EI's Senior Policy Advisor, coordinating the Agency's inputs into national enterprise policy as well as a Senior Development Adviser working closely with a range of internationally traded services companies. He worked on secondment in the Department of Foreign Affairs as acting First Secretary in the Economic Relations Division and worked as an economist with the National Competitiveness Council and Forfas.
Enda is a graduate of NUI Galway with an MA in Economics and holds a H.Dip in Ed (NUIG) H.Dip in Business Management (Uni. Ulster) and a H.Dip Applied Statistics (TCD)