---
SPEAKERS
---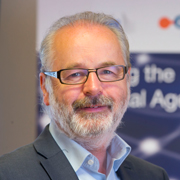 Brian
Foley
---
Quality Manager at Waterford Institute of Technology's
Brian Foley is EU Quality Manager at Waterford Institute of Technology's (WIT) research wing, The Telecommunications Software and Systems Group (TSSG). The TSSG is a major driver in the emergence of a telecommunications industry in the South East of Ireland. In the last five years alone, TSSG has secured funding in excess of €10 million under the Seventh EU Framework Programme (FP7), making it one of the most successful ICT research centres in Ireland.
TSSG employs over 100 research scientists and engineers, 25 postgraduate students to PhD level and manages an active international network in excess of 450 partners from industry, academic and research institutes spread across 35 countries worldwide.
Brian is an experienced project manager with over twenty years involvement in European and national research projects. He has managed projects in FP5 and FP7 and has led work packages in numerous other projects. He is currently project manager for the eDIGIREGION project.
Prior to joining the TSSG, he was Managing Director of DeepWater Training (www.deepwater.ie), a successful innovation management company and one of Ireland's leading providers of training in the areas of Intellectual Property, Licensing and Technology Transfer.